Introduction
AirGradient ONE is a powerful air quality monitor measuring particulate matter (PM2.5),carbon dioxide (CO2), volatile organic compounds (TVOC), temperature and humidity including a customizable coloured LED bar.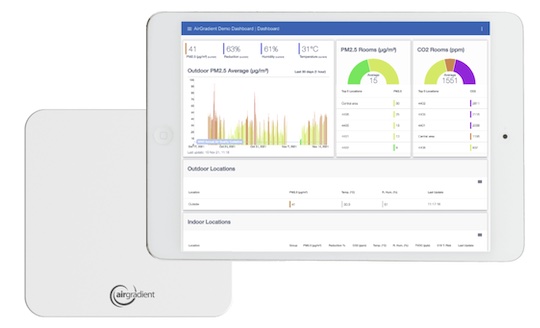 AirGradient Monitor and Dashboard
Models
The AirGradient ONE is currently available with the following models:
| Model Name | Description |
| --- | --- |
| 8PSL | Standard Model |
| 8PSL-DE | Display Edition Model |
| 8PSLM | Modbus Model |
| 8PSLM-DE | Display Edition Model with Modbus |
This manual applies to all models. Specific model-features are marked.
Package Contents
The AirGradient ONE package contains the following:
AirGradient ONE Monitor
USB Power supply
USB-C cable
Screws and wall anchors
Modbus plug (8PSLM version only)
Mounting Instructions
The monitor should be placed away from doors, windows ventilation or HVAC registers, and avoid direct sunlight. Please ensure that the monitos is mounted on the wall in the correct orientation and with unobstructed air flow at the bottom and top of the monitor.
Screws and wall anchors are provided for wall mounting or you can use strong tape (e.g. 'command strip'). The monitor enclosure cable management allows for use of a wall socket above or below the monitor. The monitor must remain plugged in with power at all times to ensure uninterrupted operation of the device.
WiFi Connection
When the monitor is powered on for the first time, it requires an initial connection to your Wi-Fi network. Therefore, the monitor will open an access point where you can connect directly with your phone to enter your Wi-Fi network credentials. Please follow these steps:
| Step | Description | LED Bar Indication | 8PSL(M)-DE Display Text |
| --- | --- | --- | --- |
| 1 | Connect the monitor to the power supply. The monitor will enter Wi-Fi Configuration mode if it does not find any known Wi-Fi network it was previously connected to. You have 5 minutes to connect it to the WiFi network before the monitor times out. On 8PSLM model this time is only 1 minute. | One blue LED | …s to connect to WiFi hotspot:'airgradient-_____' |
| 2 | Look for a hotspot named airgradient-xxx in your phone's Wi-Fi settings and connect to it with the Wi-Fi password "cleanair". Alternatively scan the QR code on the back labeled "Add to WiFi". | One blue LED | …s to connect to WiFi hotspot:'airgradient-_____' |
| 3 | After a few seconds, you will see a Wi-Fi connection menu. Click on "Configure Wi-Fi" to search for nearby Wi-Fi networks or "Configure Wi-Fi (manual)" if you have a hidden Wi-Fi network. | All LEDs blue | …s to connect to WiFi hotspot:'airgradient-_____' |
| 4 | Select the network you want to connect the monitor to and enter the credentials and press Connect | White LED Animation | Trying to connect to WiFi |
| 5 | Once the monitor connects successfully to the internet, all LEDs will turn green. | All LEDs green | Server connection successful |
If you have connection issues, please note the following error indicators.
| LED Bar Indication | 8PSL(M)-DE Display Text | Description |
| --- | --- | --- |
| All LEDs red | WiFi not connected | Indicates that the sensor cannot connect to the WiFi router. Potential reasons: Wrong password, Wrong SSID, Router blocks unknown devices |
| All LEDs orange | Server not reachable | Connected to WiFi but the server not reachable e.g. firewall block/ whitelisting needed etc. |
| All LEDs purple | Sensor Configuration Error on Server | Server reachable but sensor not configured correctly |
AirGradient LED bar and Display
During normal operation if a connection problem appears, the left LED will indicate the issue with the same color as above. In case you set the LED bar profile to PM, the right LED will indicate this.
Please note the following:
AirGradient ONE only supports 2.4GHz WiFi.
AirGradient ONE does not support WPA 2 Enterprise authentication.
AirGradient does not support Wi-Fi authentication through captive portals. It needs a regular SSID with a password.
In case you need to white list the MAC address of the monitor, the serial number printed on the back of the device corresponds to the MAC address.
AirGradient Dashboard
In order to connect the monitor to the AirGradient dashboard, scan the QR code "add to dashboard" on the monitor's label.
Alternatively, you can visit https://app.airgradient.com/onboarding/welcome and connect the monitor there.
If you have any issues with connecting the monitor, please contact us at https://www.airgradient.com/support/
Specifications
| | |
| --- | --- |
| Dimensions | 130 x 130 x 36 mm |
| Weight | 300 g |
| Wireless Connectivity | Wi-Fi 2.4 GHz |
| Input | 100~240V AC, 50/60Hz USB-C |
| Output | 5V/2.0A |
| Visual Indicator | 11 LED Color-LED bar (configurable) |
| Certifications | RESET™ Air, FCC, CE, RoHS, WEEE |
Sensor Modules Accuracy
| Sensor | Accuracy |
| --- | --- |
| PM2.5 (laser scattering principle) | ±10%@100~500μ g/m³, ±10μg/m³@0~100μ g/m³ |
| CO2 (NDIR) | Range 0 - 10.000ppm, ± 40 ppm ± 3%, automatic baseline calibration |
| TVOC (multi-pixel gas sensor) | 0 - 1,000 ppm of ethanol equivalents, accuracy: 15% |
| Temperature | -40 to 125°C, ±0.3°C @ 0-90 °C |
| Humidity | Range 0 - 100% RH, ±2% @ 0-100% RH |
Test Report
The test report of the monitor can be accessed through the "show sensor information" screen on the dashboard's admin shortcuts.
Safety Information
Only use the provided charger and cable For indoor use only Unplug the monitor from the outlet before servicing DO NOT clean with liquid DO NOT use in wet or damp areas DO NOT exceed the recommended electrical ratings Operating ambient temperature: 0° to 50° Celsius
Support
In case you have any problems, please contact https://www.airgradient.com/support/ .
Manufacturer
Airgradient Limited, 181 M.10 Baan Nam Long Soi 2, Sanpong, Mae Rim, Chiang Mai 50180, Thailand