Social-distancing and mask-wearing are important tools for reducing the COVID-19 transmission risk in schools, but one critical less discussed factor is to ensure that there is adequate air ventilation inside the classrooms.
Unfortunately, this is where most schools fail.
Social distancing and mask wearing are relatively easy to implement and monitor because you can immediately see if, for example, somebody does not wear a mask. However, ensuring a safe ventilation rate in classrooms is much more difficult for the following reasons:
Many classrooms do not have a fresh air ventilation system but only an air conditioner system that internally circulates the air
Policies, like opening windows every 45 minutes, are not implemented due to their causing classroom disruption
Temperature fluctuations from cold winter air or hot summer air can impact comfort and learning. It is difficult to ensure that all teachers, support staff and administrators follow the policies
Schools may not create functional ventilation policies due to lack of clear technical guidance on how to ventilate and how to measure if the ventilation is effective
A proper ventilation rate of outside air is crucial in order to flush out airborne particles that could carry the COVID-19 virus. The most practical indicator of adequate ventilation rates is the indoor CO2 value. Outside air has a CO2 level of approximately 400 ppm but indoor air, especially in unventilated classrooms, can quickly reach very high levels.
Most centers of disease control recommend that CO2 be controlled to certain levels for safely ventilated classrooms. The German UBS (Environmental Protection Agency), for example, calls for CO2 levels below 1000 ppm. The US CDC (Center for Disease Control) goes even further and recommends CO2 levels for classrooms be kept below 800 ppm to minimise COVID-19 transmission risks.
At AirGradient we real-time monitor hundreds of learning spaces and can see huge differences in CO2 values inside classrooms.
We see quite a number of classrooms that massively exceed the CDC recommendations - sometimes even up to 500% over limits. These classrooms have minimal fresh air, and thus pose a considerably higher risk for airborne transmission of COVID and other viruses and bacteria.
Here is an example of the a typical classroom with no inadequate ventilation: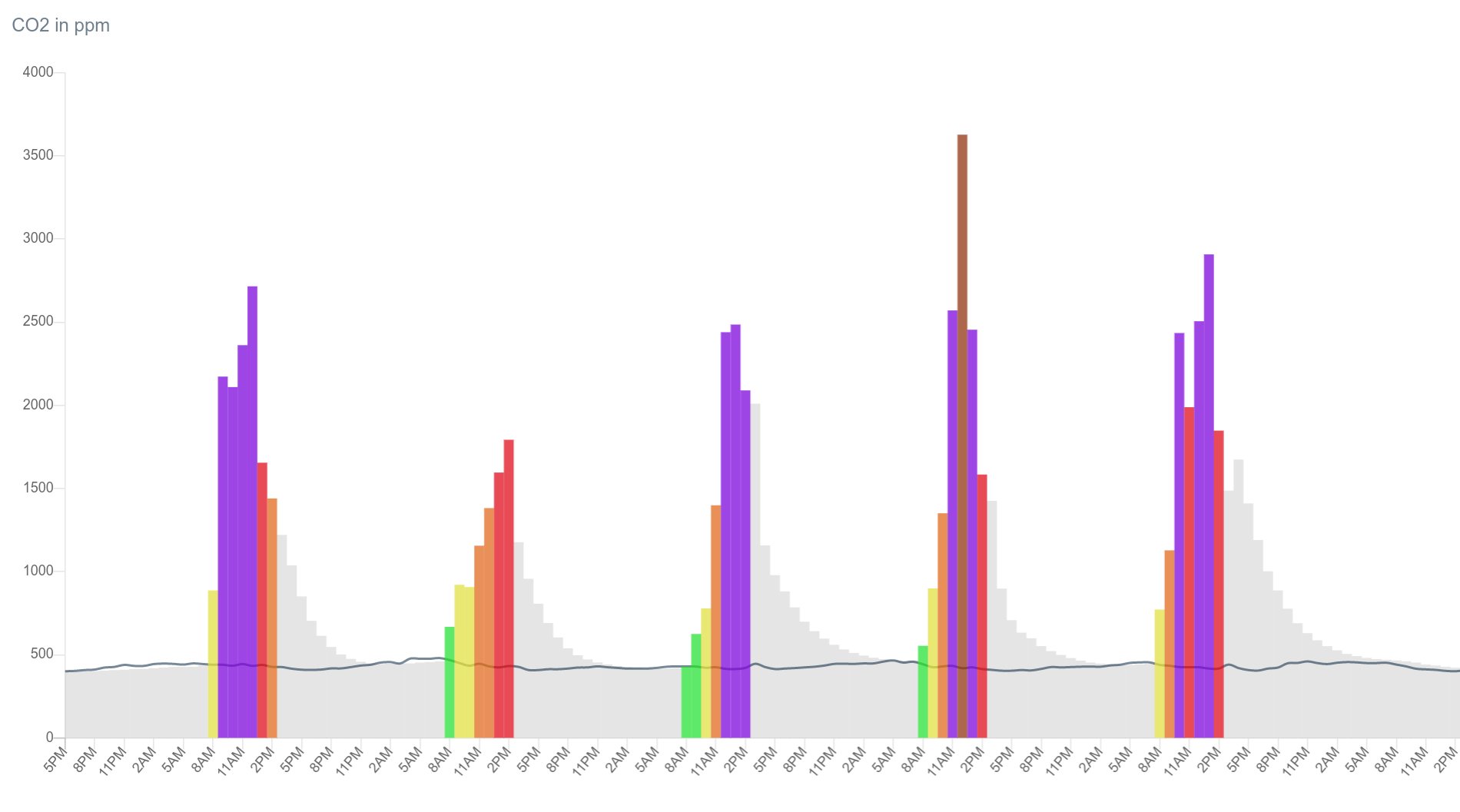 During occupied hours the CO2 values go up to 3500 ppm which is more than four times the recommended CDC value of around 800 ppm. Thus there is a very high risk of COVID-19 transmission, if one of the children or teacher in this room is infected. Unfortunately many classrooms look like this, and most school administrators and parents are completely unaware of these unseen risks.
However, the good news is that if schools manage their ventilation well, they should be able to keep the CO2 values always within CDC recommended ranges.
The best schools increase the ventilation rate of their fresh air systems to keep CO2 levels at 1000 ppm or below to ensure health and safety compliance. Here is a good example of a well ventilated classroom.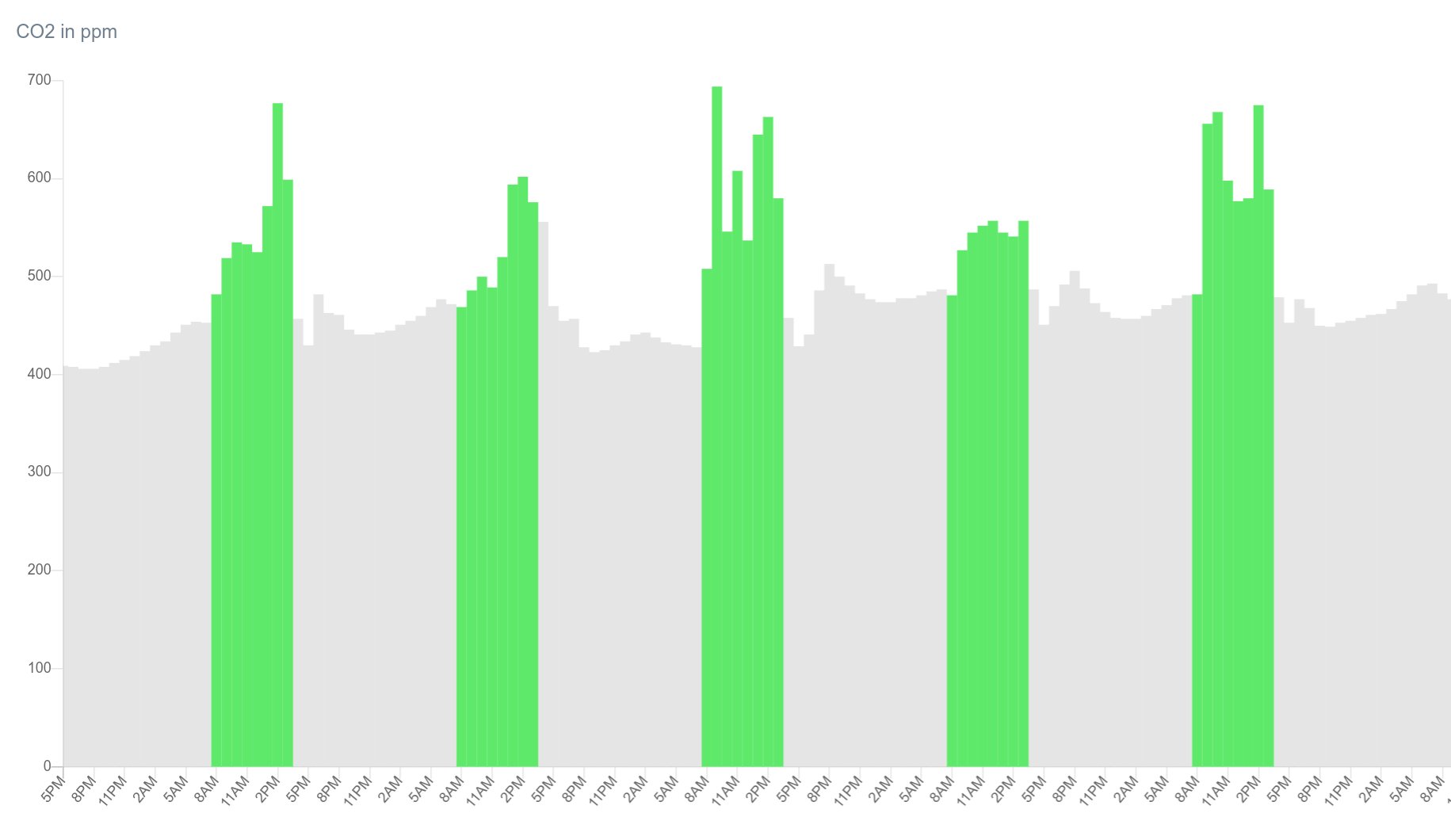 This is a classroom with an automatic ventilation system connected to the AirGradient sensor platform, dynamically increasing the fresh air intake based on CO2 rises. The system constantly, automatically manages the ventilation rates to ensure compliance with CDC recommendations.
In 2020 we implemented a calculated COVID-19 Transmission Index in the AirGradient platform to help schools manage this crucial aspect of providing safe and healthy classrooms. Schools that use the AirGradient system can also set up alerts to get real-time notifications as soon as a classroom reaches a high level of CO2. This, along with historical data analysis, can help all schools achieve safe ventilation rates, regardless of their ventilation method. If you are a concerned parent, this is what you should ask your school administrator:
What are the school policies on ventilation?
What ventilation systems do the classrooms utilize?
How do you ensure that enough ventilation is achieved?
Do you measure CO2 values in every classroom?
What are the average CO2 values during lessons?
If you are a school passionate about providing the safest and healthiest classrooms for your students, get in touch with us and learn more about our Clean Air solutions.